Hole-in-the-Wall Electric Media Wall Fires
For the past few years, electric fireplaces have been generally overtaking their gas and solid fuel counterparts in terms of popularity. This has been the case not only for people with new-built houses, but also older, more traditional houses with proper, class 1 chimneys that could easily host a wood-burning stove or full-depth gas fireplace.
Why are electric fireplaces so popular?
Possibly the main reason so many people choose electric fires nowadays is that, unlike gas and log burners, they can be turned on for visuals without necessarily having to emit any heat. Many rightfully say that wood-burning fires and gas fireplaces are still significantly more realistic than electric fires, and that is indeed the case when they are both turned on. However, when you account for the fact that the former are turned off most of the time, it is easy to conclude that electric fires will still provide more benefits for most people considering a fire mostly for its visual aspects.
Electric Fires and Media Walls
One of the most popular subgroups of electric fires is the hole-in-the-wall electric fire. This type of fire can be fitted into existing chimney breasts, false chimneys, or even flat cavity walls. Bespoke fake-chimney installations have been in high-demand recently, allowing stunning placements of the single-sided, double-sided, and three-sided electric fires, often fitted with a TV and sound bar above to achieve a full electric media wall style. Some fires, like the SLE125T Tunnel, even allow for a see-through appearance, being  perfect for a room wall divider.
Electric Fires for Media Walls – Features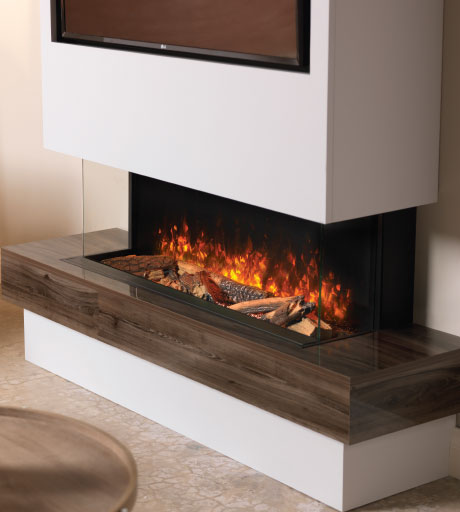 Many hole-in-the-wall electric fires now feature contemporary LED-screens with highly realistic flame effects and fuel beds. Most are very versatile, allowing you to change the colours, brightness, and intensity of the flame panel, bed panel, and downlights. Some even feature calming crackling sounds reminiscent of real wood-burners.
The benefits don't stop there! A large proportion of electric fire manufacturers now include Wi-Fi modules with their fires, giving you the option to custom-pick specific colours, colour combinations, and have various profiles for different occasions set up from your mobile smartphone. Programmable timer functionalities, thermostatic-control, and smart home Alexa integration are some more of the characteristics in the ever-expanding list of features electric fires benefit from.
While this all must sound very interesting and the pictures and videos make these fires look quite spectacular indeed, we do recommend that you view them in-person to make up your mind on which flame effects, fuel beds, and features you are leaning more towards. We have a wide array of these hole-in-the-wall electric fires, as well as electric stoves, inset electric fires, and wall-mounted electric fireplaces available to be seen on display in our showroom.
We are able to either only supply the electric fire if you already have an engineer in mind who can install it or feel confident doing it yourself, or both supply and install your selected electric fireplace. In most cases, these can be fitted into the existing chimney if your property has one, or a bespoke media wall can be built to accommodate the fire you pick. Additional recesses can be made for other appliances, such as TVs, sound bars, pictures, ornaments, etc. We can arrange the full installation as well as plastering to give you a headache-free experience getting your centrepiece fireplace sorted; the only work left to yourself would be the decoration.
We recommend booking an appointment to ensure you receive all the information and assistance you need from our in-store advisers and reduce waiting times in case of busy periods.