It's 6PM. You just came home from work. You're tired and your room feels like a fridge. Having a quick and easy way to warm up the house without compromising on the look of an authentic wood burner sounds too good to be true. It looks like you should get yourself a gas fire!
Why else should I choose a gas fire?
If you care about the visual effect of a fire, but are also planning on actually using it for heat, then a gas fire is certainly a good option to consider. Gas stoves are often chosen over wood burning stoves due to their ease of use and convenience. With the push of a button and in just a matter of minutes, your room will be warm and cosy without having to put in the amount of time and effort it takes to start and maintain a wood burning fire. It's instant, less messy, does not require much storage, and it's the closest thing to a real fire.
What are the downsides of a gas fire?
One of the few limitations of a gas fire is that it does not look all that exciting when it's off. And that means that if visuals are really important to you, you will have to have it on most of the time to enjoy the flames which will, in turn, increase that gas bill. It also means you won't really be able to use it during the warm days of summer. If this all sounds like it might affect your ability to enjoy a new gas fire, you might want to consider going electric.
Another thing to keep in mind is that gas fires require a yearly service by a gas-safe engineer. This not only ensures your gas fire is running smoothly, but it is also the main condition that most manufacturers require in order to validate your warranty.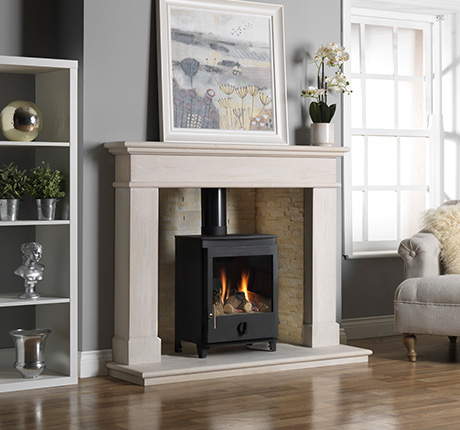 What to look out for when choosing a gas fire
Make sure that the fire you're planning to purchase is compatible with the existing flueing system in your chimney, which can be either a Class 1, Class 2 (prefabricated), or Pre-cast chimney (our team of specialists can

help you

identify this). Don't worry if you don't have a proper chimney, as there are ways of getting around that.

Know what type of gas fuel you require: natural gas or LPG (if you are living in or close to a city, you will most likely have access to a natural gas supply).

Decide if you want to have an open or glass-fronted fire. While there used to be great differences between the efficiency ratings of open and glass-fronted fires — with the glass-fronted ones being more efficient — open-fronted fires have progressed a lot and are now much more efficient than they used to be. So the main distinction is now related to style and personal preference.

Heat Output: for most normal-sized rooms, a heat output of around 4kw is more than enough.

Choose your fuel bed preference: ceramic logs, coals, or pebbles.

And the control type: Remote control, slide control (a small lever usually on the upper side of the fire which allows it to be switched on and controlled with greater ease), or manual control (controlled by using a switch on the lower side of the fire).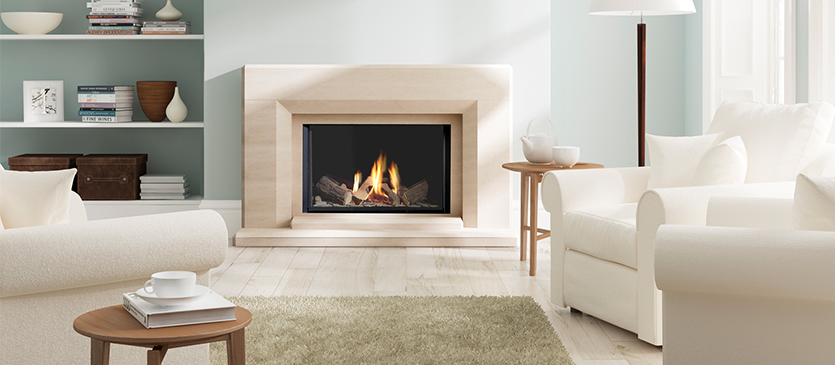 All that remains now is for you to choose the style of fire you want: whether it's a freestanding gas stove, an inset gas fire to complement a fireplace surround, or a hole-in-the-wall or wall-mounted gas fire, there's plenty of choice. 
Give our gallery a browse or come into our extensive showroom and see what catches your eye! We'll make sure you get the best advice and information and we'll help guide you to find the most suitable fireplace for your ideal set-up.