Electric Fires and Stoves
We get it: you care about the environment. What you need is a nice, decorative feature for your room in the form of a fire or a stove without impacting Mother Nature too much. We have some good news—electric fires are perfect for this and have many more significant benefits worth considering.
The main benefit of electric fires
You can constantly enjoy the decorative flame effect of a real stove or fire, with the convenience of a gas fire, for the cost of running a lightbulb. The reason? You can have the visual effect on without the heat. This is something that is impossible for log burners or gas fires. It's the main reason why so many people now choose electric fires over the alternatives. Instead of purchasing a wood burner or a gas fire which aren't even going to be used as a source of heat and will be off most of the time (and let's face it — they don't look all that thrilling when they're off), they would much rather have an electric fire of a similar style and use their central heating during the winter. The added benefit is that they can have the electric fire on during summer, the warm days of spring and autumn and any other time, irrespective of the weather.
Do electric fires and stoves produce any heat at all?
Yes. If you ever feel the need for additional heat, most electric fires are equipped with a 2kw fan heater, which is more than enough to help warm up an average-sized room.
Don't electric fires look… awful?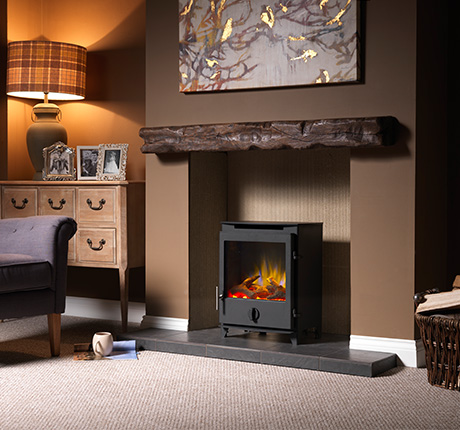 That certainly used to be the case. But we're happy to say that they have come a long way! The LED-screen type fires are much better and more realistic than they used to be; on top of that, most of them now give you the option to change the brightness, intensity and even colour of the flames.
They can come with backlights, underbed illumination and more. Some fires are even equipped with water tanks which produce a smoke-like vapour and that combined with the underbed orange lighting generates a flame effect so close to the real thing that it's nearly indistinguishable from an actual fire.
Although pictures are certainly helpful, if you really want to see how much electric fires have progressed, we recommend that you take a look at them in person. We have a wide range of electric fireplaces, stoves, inset electric fires, and wall electric fires on display in our showroom, so you can see all the different options. 
What types of electric fires are there?
The amount of options you can choose from is so vast, it'll give you a headache! There are electric stoves of different shapes, styles and sizes, inset electric fires (traditional and contemporary), hole-in-the-wall electric fires or wall-mounted electric fires, edgeless or with frames. You can have them sit into a limestone, marble, or wooden fireplace, or go for an electric fire suite in just one complete unit. You also have a choice between pebble, log effect or coal effect electric fires. While the list of options is vast and perhaps might be a little overwhelming, our advice is to simply go with whatever fire type you think matches your current (or prospective) house style.