Fireplace Surrounds and Mantels: Marble, Limestone or Wooden
Whether you're thinking of getting a fireplace to complement an inset log burner, gas, or electric fire, or one to accommodate a lovely wood burning or gas stove, there are plenty of options you can choose from. There is so much variety in terms of material, colour, size and style, it's highly unlikely you won't find something that you like.
What fireplace material should I choose?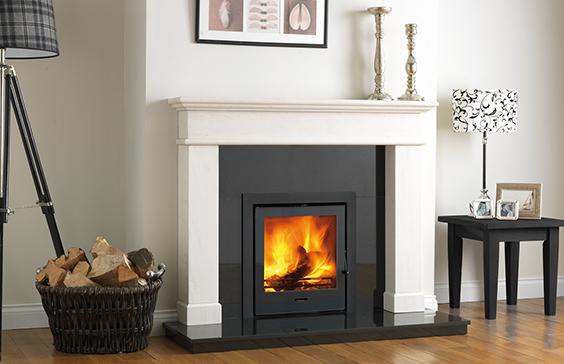 In some cases, depending on the type of fire you have, you might be limited to only certain types of material. For instance, if you choose a wood burner or a gas stove / fire, then you can only have a fireplace made out of non-flammable material, such as natural stone and marble. There are different types of limestone (Portuguese, Aegean, Turkish, Bathstone), marble (natural or micromarble), slate (riven slate, smooth slate) and granite (black granite or honed granite) that you can choose from, with many different colour options and traditional or modern styles. In some instances you can also have a wooden mantel (the surround), but it is still required to have a back-panel and a hearth which is made out of granite, marble or another type of non-flammable material to withstand the heat of the log burner or gas fire.
 With electric fires, however, you can go for any of the above options and more, as their heat output is not as high, does not produce any sparkles and ashes, and is dry compared to their gas counterpart
Will the fireplace surround I see in the shop/pictures look the same as the one I purchase?
One thing to keep in mind is that fireplaces made out of a natural material, such as stone and natural marble, tend to vary in colour, veinings, and fossils, so they might differ significantly from the sample you see in a shop or in a picture. Many people prefer this, as they like the idea of having a fireplace that is completely unique and cannot be found anywhere else. Other people, however, would rather have a mantel that is consistent in its colour and finish. If this is the case for you, you might want to consider a micromarble (marble that is injected with a resin to keep nearly the same finish and colour throughout all the components of the fireplace) or a finished wooden (MDF) fireplace.
Which fireplace type is the cheapest?
Wooden mantels and surrounds tend to be the lowest in price, particularly MDF mantels. These are made from a material combining hardwood and softwood residuals — which is why they are cheaper — but can have many different colours and finishes making them look similar to limestone and marble fireplaces.
What fireplace size is ideal?
The width of mantels and hearths range from 36" to 58" and can be made even wider or shorter upon request. The most common size tends to be 48" for the maximum width of the shelf and hearth, with a standard 37" by 37" backpanel and a 16½" by 22½" cut-out. Depending on whether you go for a wood burning stove or a gas fire, there might be a minimum depth for the hearth (the base component of the fireplace), which is normally 15". Don't worry if this all seems too complicated — our specialists can help you find the size of your fireplace which is ideal for your current setup.
After browsing through our gallery, we recommend that you come into our showroom and speak to one of our helpful advisers before placing an order. You can also give us a call or send us a message if you have any questions.