This offer has now expired.
The Eden Wood Burning Stove Package
One of the most popular product bundle packages we are currently offering starts as low as £1550 and includes the installation as well as all other necessary components. 
The Henley Eden Stove: a 5kW multi fuel stove which allows burning of wood and logs, as well as other types of smokeless fuels such as smokeless coals, briquettes, pellets, etc.
It is DEFRA-approved, so it can be used in even the strictest smoke control areas in the country. This is mainly thanks to its double combustion system, bringing the efficiency rate as high as 83% and making it ideal for environmentally conscious individuals.
The stove is manufactured with high-quality heavy-duty cast iron, which is designed to retain heat for a longer period of time, even after the fire ceases to burn. It is a perfect combination of traditional design and modern functionality.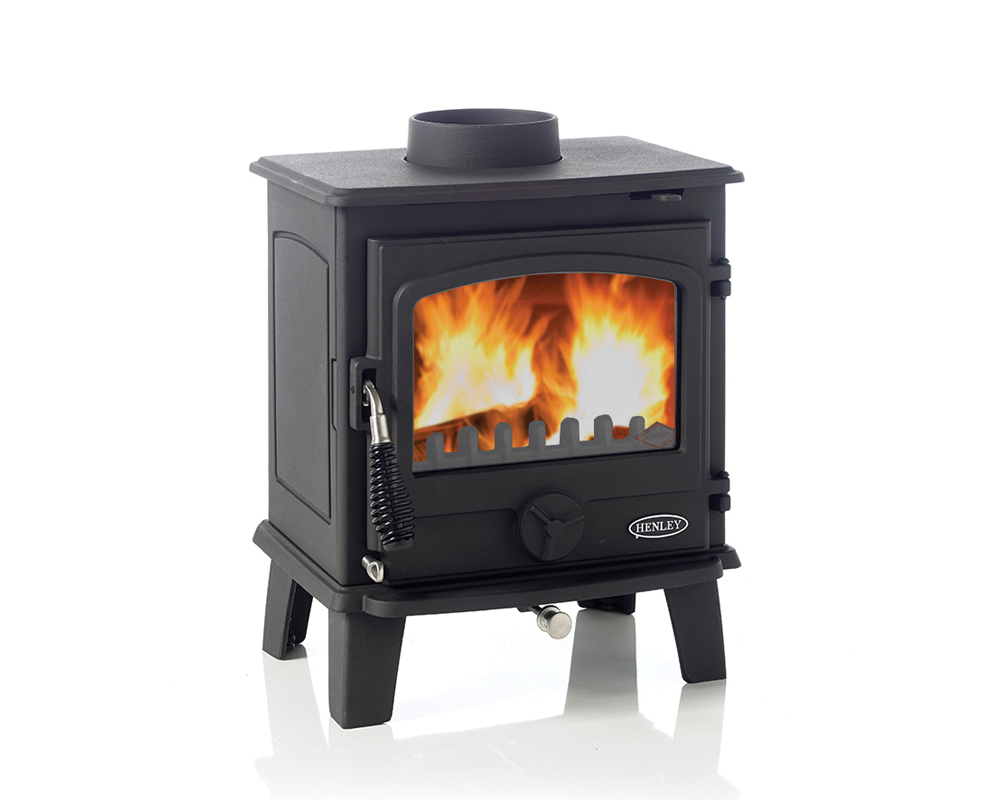 We recommend using the higher grade 316 stainless steel liner system, which is comprised of a standard 10 to 12-metre liner paired with the necessary kit which includes the adaptor, vitreous pipe, pot-hanging cowl and register plate. 
Provided that the stove is used appropriately and that the right fuels are being burnt, the liner should have a life of at least 15 years (which is the standard warranty period for a flue liner system).
We have a wide range of different materials, finishes, styles and sizes available for you to choose from. You can opt for a riven slate, black granite, marble, limestone, or other types of stones, and natural non-flammable materials. They can all come in different variations, finishes and styles that you can see in our showroom.
Heat-Resistant Inner Chamber Board
Included in the package is the heat-resistant inner chamber board placed around the stove. This will also be plastered and rendered by our engineer. There are other inner chambers available to purchase, made out of different materials – such as rustic slate, grey slate, brick effect, etc. These would be an optional extra.
Full Installation Service
Our bundle also includes the full fitting service for the wood burning stove package purchased from us. This will entail fitting all of the components (inner & outer hearths, stove, liner system) by our in-house HETAS-certified engineer, and providing the HETAS certificate and data plate. If additional building work is required (such as making the opening of the chimney breast bigger, re-adjusting the cut-out, making good, plastering and rendering), this would be at an extra cost.
HETAS Certificate & Data Plate
Upon completing the installation, the engineer will also supply a HETAS certificate and Data Plate, signing off the installation as safe and secure.
We have a wide range of fireplace surrounds, beams, and mantels in a variety of styles, finishes and materials that you can choose from if you wish to complement your new stove package. These can also come in marble, granite, wood, limestone, or other natural stone materials, in different light or dark finishes.
As long as your property is located within approximately 30 miles from our showroom, we are happy to fulfil our package price for you. We cover areas including Coventry, Kenilworth, Leamington Spa, Solihull, Rugby, Warwick, Nuneaton, Hinckley, Evesham, Keresley, Bedworth, Stratford Upon Avon, Knowle, Dorridge, and more. If you're unsure whether or not you qualify, feel free to give us a call or drop us a message and we'll be happy to answer your question.
To see all of the wood burning stoves, hearths, and fireplace surrounds we have on display, visit our showroom on 74 Paynes Lane in Coventry CV1 5LL, where our friendly advisers will be able to provide you with advice and answer any questions you may have.
You can also browse through our online stove gallery, read through our most frequently asked questions post about wood burning stoves, or our general information article about log burners.