This offer has now expired.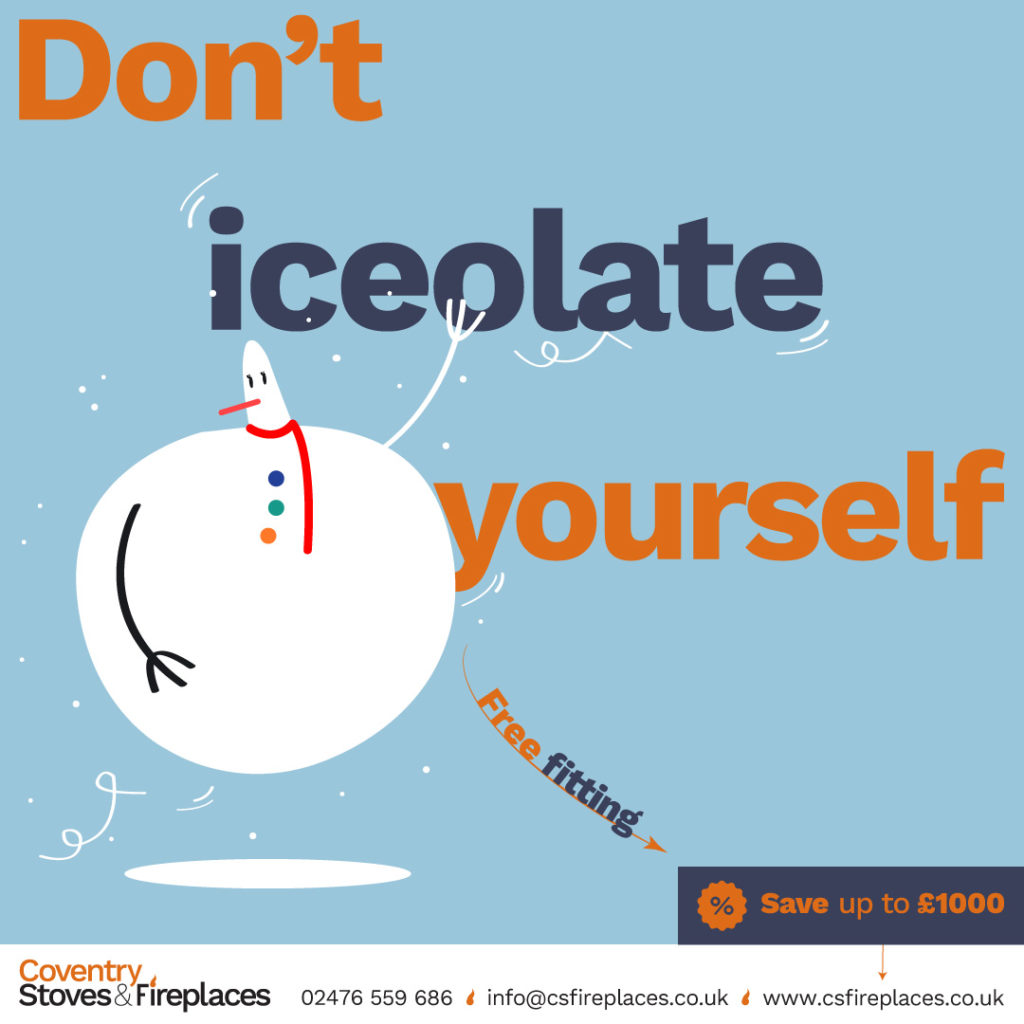 Isolate yourself, don't iceolate yourself!
As a response to the Covid-19 developments, the UK government recommends non-essential travel to be minimised, while those over 70 will soon be asked to self-isolate.
Many businesses are trying to adapt to this situation by changing their standard practices, and by finding ways of providing their products and services with minimal contact required.
As a local business that values health and safety, we encourage people to closely follow the government's advice, even if this means less customers will be coming through our doors. At the same time, we understand the needs of our local community and want to make sure they are met; many of those affected by these decisions may depend on alternative sources of heat like wood burning stoves, as opposed to a centralised gas supply. 
That is why we have decided to make it easier for people relying on more traditional sources of heat by offering a completely free fitting service on our solid fuel appliance packages until 30 April.
Free Installation Service: Offer Details
We are offering a completely free installation service for any wood burning or multi-fuel stove packages (stove, liner and hearth) purchased from us starting from 17 March all throughout the month of April (ending on 30 April 2020). The property must be located within 30 miles from our store to qualify.
Once you choose your preferred wood burning stove and components, we book a free survey (within 5-7 days from the point of order) and installation date (~ 3 weeks after the survey) for you. 
The fitting is usually completed within approximately 4 weeks from the point of order, but if you would like us to arrange dates further into the future, we are happy to do this for you. On some occasions, the turnaround can be shorter or longer depending on availability and on our customers' preferences.
The usual way our customers have been selecting their stoves has been by visiting our showroom to see our range of products in-person and to speak to an adviser. Due to the current circumstances, you may have a look at our galleries and contact us for an initial telephone survey instead. We will be able to advise you on the required components to fulfil your order and to arrange a survey for you.
The cost to fit a wood burning stove depends on factors such as the type of stove being installed as well as all other components that are required for the installation. This normally ranges from £300/£450 to £1000 or more. 
The more components required to be installed, the higher the installation cost will be. This is the case particularly if there is any building work needed to be done, such as making a bigger opening in the chimney breast for a wider wood burning stove to go in.
Our promotion for free installation this month really is truly complete! The installation service we provide will be totally free of charge for all class 1 chimneys and will include the fitting of the stove, liner, and hearth, as well as some of the building work required, namely chimney opening, re-linteling, plastering and rendering. 
You will also be provided with a HETAS certificate for your installation. The only final step left for you to complete once the engineer has finished fitting the products is the decoration of the area.
Don't Miss Out: Promotion Ends on 30 April!